Durga Puja is one of the widely celebrated festivals in India. It is the ceremonial worship of the Mother Goddess. This festival, Durgotsab, is a celebrated occasion for reunion and rejuvenation and also, a celebration of traditional culture and customs. This is the most important festival of the Indian states of West Bengal and Tripura, and the passion and enthusiasm which is shared throughout the country are commendable.
This festival is usually celebrated in the months of September or October. The festivity goes on for ten days. At the end of these ten days, the idols of Goddess Durga along with the idols of some other Gods is immersed in water, marking the end of the festival.
Since it's one of the most celebrated festivals, we present you with a list where you could find the most enthusiastic Durga Puja celebrations in our country.
 1. Kolkata
This city celebrates Durga Puja like no other city in India or in fact, the world. It is not only a mere religious celebration but also a fanfare which includes each household. It is the artistically decorated pandals, vast idols of Maa Durga, mouth-watering street food, and mesmerizing illuminations, all this adds up and turns Kolkata into a cheerful fantasy for those five days. One of the other traditional practices which happen in Kolkata is that of Bonedi Bari Puja at least one of the locations.
 2.Mumbai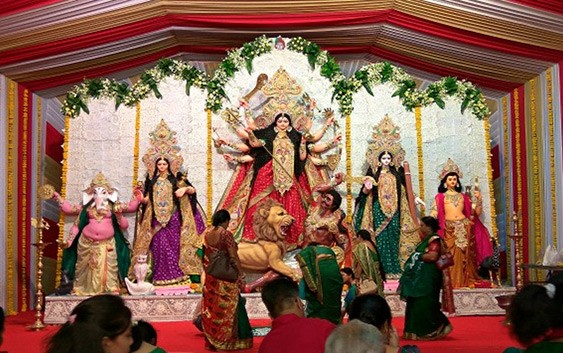 If you're feeling homesick and are missing out on the grand festivities of Bengal, you don't worry. Mumbai dazzles during the five days of Durga Puja. The celebrations are not only for Bengalis who are missing out but also for Mumbaikars who love to see the Goddess in all her splendor. Thus, making Durga Puja extremely special in the city.
The decorated pandals in Mumbai will leave you astonished with their majesty and illuminations.
You'll almost feel at home. 
 3. Delhi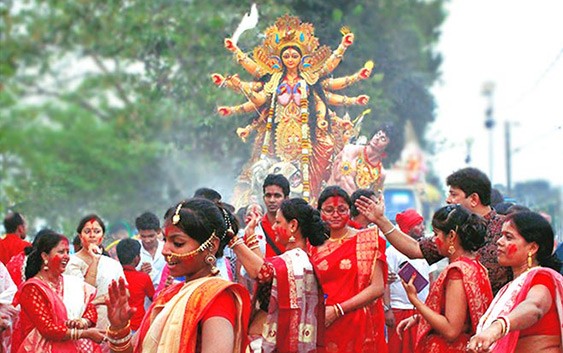 The enchanting decorations, enthusiastic crowds, and hypnotizing music wait for a long time for MaaDurga at various pandals across Delhi. To experience the age-old Durga Puja rituals, you should go to Kashmere Gate Durga Puja Pandal or Timarpur and Civil Lines Pandal. And, make sure to carry your cameras around because you definitely don't want to miss these spellbinding moments.
 4. Guwahati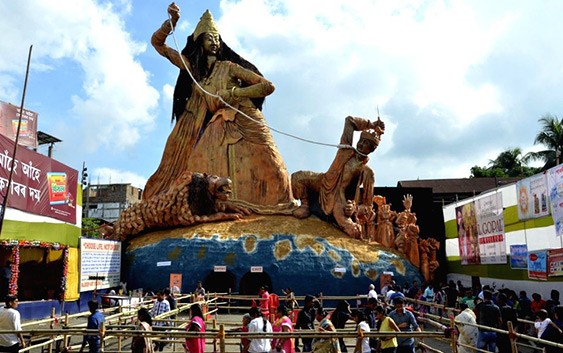 People at Guwahati welcome MaaDurga with much enthusiasm and exhilaration. Once you're at Guwahati during this time of the year, you will witness alluring pandals adorn the city, and the aroma of authentic Bengali delicacies fill the air. If not Bengal, then Guwahati is one of the best places to spend your night at pandal hopping during Durga Puja.
 5. Varanasi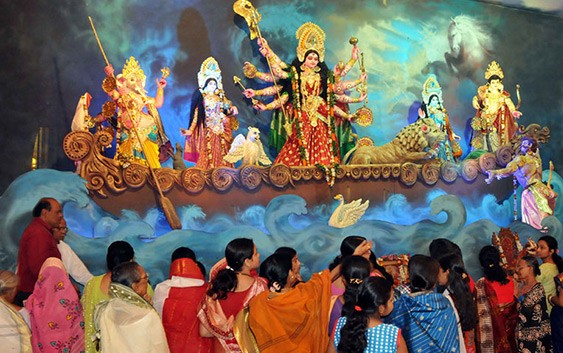 Banaras or Varanasi, the holy city on the banks of Ganga, is another place which will leave you mesmerized during this time of the year. Since Varanasi is the spiritual capital of India, it welcomes Maa Durga with an unmatched fervor. The organizers of the pandals ensure that they have a surprise theme to please the Goddess as well as her devotees.
So if you're unable to be with your family on this auspicious festival, make a note to visit one of these places and enjoy these festivals with your friends.
Wherever you go, give your festival an emotional end by bidding goodbye to the Goddess and wait for her to come back the next year!