Holi, a festival that is widely and wholeheartedly celebrated in Northern and Western parts of India. The festival rejoices the commencement of spring as well as the victory of good over evil. It is best known around the world for colors, during the celebration of this festival, people throw colored powder on each other. This is why the festival is also popular as "Festival of Colours".
 When is Holi Celebrated?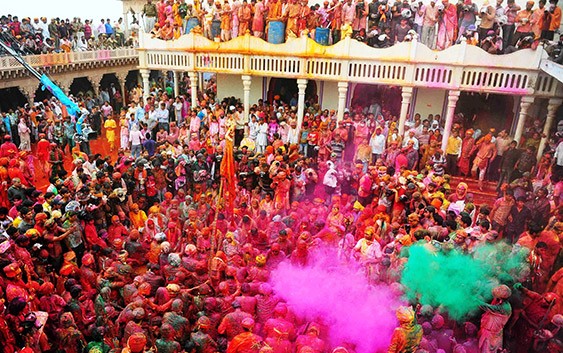 The festival marks the end of winter and beginning of spring. The day after the full moon in March each year. In West Bengal and Odisha, the festival falls on a day before. In some of the northern regions such as Mathura and Vrindavan, the festival is celebrated for a week long.
How is it celebrated?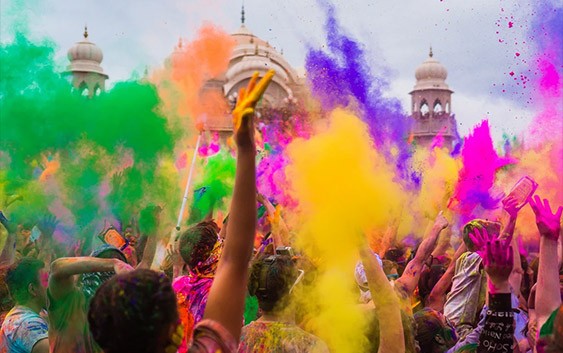 At most of the places, people spend the day spreading colored powder and colored water on each other's faces, having parties, having to get together, and dancing under water sprinklers. Many people consume drinks made from Bhang (AKA cannabis). In places, Mathura, Vrindavan, and surrounding areas, people celebrate the festival for over five days, during which along with throwing colors, ladies beat men with a stick. This is the festival full of fun, energy, and enthusiasm.
 Rituals of Holi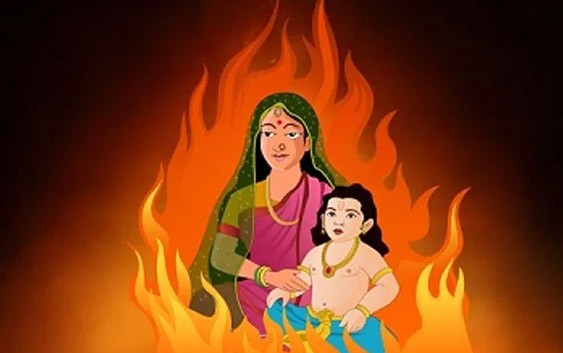 There is a story behind Holi. The word "Holi" has come from from "Holika", the evil sister of demon king Hiranyakaship. Hiranyakaship was virtually immortal. Due to this power, he becomes arrogant and began to consider himself as god and asked everyone to worship him. However, Prahlada – Son of Hiranyakaship disagreed. He was the devotee to Lord Vishnu and continued to worship him only. So, in order to kill Prahlada, Holika – Prahlada's evil aunt – tricked him into sitting on fire with her. As the fire roared, the cloak worn by Holika flew away from her and encased Prahlada. Eventually, Holika was burned, Prahlada survived. Therefore, the bonfire is the symbolic victory of good over evil. Holi is celebrated by burning of demoness Holika. On the eve of Holi day, a ritual named Holika Dahan, in which bon fire is created to burn away Holika and this process is believed to burn away all the negativity around. Along with this, a special puja is performed, people sing and dance around the fire, and walk around it three times.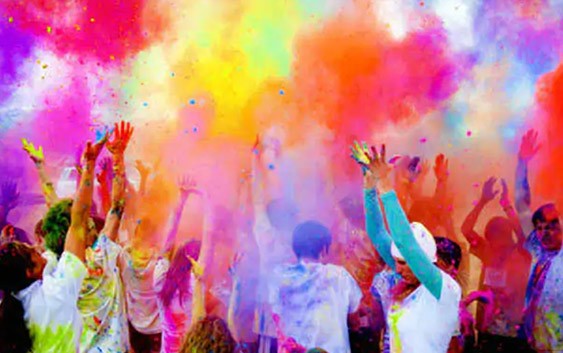 In different parts of the country, this beautiful festival of colors is celebrated in different manners, however, the spirit remains the same. Holi is a very light-hearted festival that's great fun to join. You'll end up soaked in water, with colour all over your skin and clothes. Now-a-days, people use organic colours to play around during the festival. The whole idea is to have fun and saturate people with colours and love.
It's a unique festival, which burns away the negativity and brings people closer. During this vibrant festival of colours, people forget about their grudges and pour their love in the form of colours. There is much more to the festival when is experienced.
Come, celebrate this vibrant festival of India. If you want to explore the amazing places where Holi is celebrated in a unique manner Destino's India with being your partner to help you discover the Liveliness of this festival.